In Today's video we take a look at the Octo Pulse 2 Wave Pump from Reef Octopus available at Premium Aquatics.
Octo Pulse 2 Wave Pump:
https://goo.gl/4urj3Y
The new Octo Pulse 2 is a fully controllable flow pump that moves up to 1600gph and consumes no more than 10 watts of power in the process. The broad flow water movement will encourage coral growth instead of blasting it away with harmful "hot spots" associated with other wave pumps.
Visit Premium Aquatics:
https://premiumaquatics.com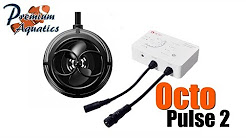 free image upload
For a chance to win:
1. Watch video and hit Thumbs up
2. Subscribe if you haven't already to our channel
3. Post a comment on our YouTube video page